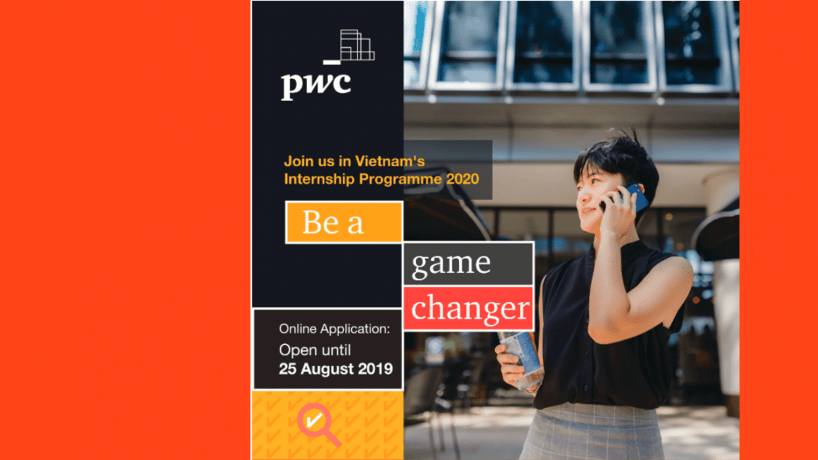 In today's dynamic and ever-changing world, the services which PwC offers are also growing and innovating. For our Internship Programme 2020, we welcome talent from all backgrounds (including accounting, auditing, finance, IT, technology,…) to join us. See how our people are being game-changers in their daily work!
+ Financial Audit Intern: Our audit and assurance group provides assurance on the financial performance and operations of your business. Click here for more details on requirement & how to apply.
+ Tax Intern: We are the leading provider of tax services worldwide in terms of the size, scope and reputation of our tax practice. Clients engage us because we understand their business and the economic environment they operate in and combine this with specialist tax knowledge in Vietnam and across hundreds of jurisdictions around the globe. Click here for more details on requirement & how to apply
——————————-
Finacial Audit Intern
Job Description & Summary
Our audit and assurance group provides assurance on the financial performance and operations of the business. We are rapidly expanding our services in Vietnam and therefore we are seeking ambitious and high-performing candidates for the position of Assurance Intern (Audit Intern) for our Assurance Team in Ho Chi Minh City.
Job Description:
Successful candidates will be involved in providing assurance services to our portfolio of international and local clients. You will be responsible for the execution of the PwC risk based audit approach and leading audit teams during the fieldwork. In addition, you will have the opportunity to provide a variety of non-assurance services to our clients.
Successful applicants will have the opportunity to develop their technical knowledge and methodology as well as having the opportunity to work with a number of high profile institutions.
Requirements:
-Final year students or recent graduates with a relevant major (Accounting, Economics, Finance, Commerce, Banking, Foreign Trade or law, Information -Technology, …)
-Good communication and interpersonal skills
-Good command of English and Vietnamese
-Self-motivated, committed and confident
-Able to rise to the challenges of participating in intensive on-the-job training, managing work responsibilities and client relationships
-Good command of Japanese, Korean or Chinese would be a plus
Education(if blank, degree and/or field of study not specified)
Degrees/Field of Study required:Degrees/Field of Study preferred: Bachelor DegreeCertifications(if blank, certifications not specified)
Desired Languages(If blank, desired languages not specified)
Job Posting End Date August 31, 2019
——————————-
Tax Intern
Job Description:
As an Intern / Trainee, you'll work as part of a team of problem solvers, helping to solve complex business issues from strategy to execution. PwC Professional skills and responsibilities for this management level include but are not limited to:
– Learn about how PwC works as a business and adds value to clients.
– Think broadly and ask questions about data, facts and other information.
– Use tools, techniques and firm standard methodologies to support research, analysis and problem solving.
– Produce high quality work which adheres to the relevant professional standards.
– Keep up-to-date with technical developments for business area.
– Communicate confidently in a clear, concise and articulate manner – verbally and in written form.
– Embrace diverse perspectives and welcome opposing and conflicting ideas.
– Uphold the firm's code of ethics and business conduct.
Requirements:
– Final-year student or recent graduate holding a Bachelor's degree in Accounting, Business Administration, Finance or another related major. Able to work full-time for three months.
– Excellent communication skills in both English and Vietnamese
– Self-motivated, highly committed, hard-working and responsible when working under pressure and getting work done promptly.
– Able to multi-task with appropriate priority.
– Detail-focussed, well organised and able to work either independently or in a team.
– Proficiency with Microsoft applications and a knowledge of databases.
Education (if blank, degree and/or field of study not specified)
Degrees/Field of Study required:Degrees/Field of Study preferred: Bachelor Degree
Job Posting End Date August 25, 2019
——Xem Thêm